NCBC Annual Conference 2020
The National Cardiac Benchmarking Collaborative (NCBC) is holding its next Annual Conference over 2 days at the King's Fund in London in February 2020. Attendance is by nomination only and the conference is now full.
The conference is only open to the UK Specialist or Tertiary Cardiac Centres who are members of the NCBC. Below are details of the conference venue and outline programme.
Monday 24 February – Tuesday 25 February 2020
Venue
The King's Fund
11 Cavendish Square
London W1G 0AN
Monday 24 February - 10:15—17:45
Day 1: NCBC Cardiac Safety Workshop
Following the success of the Sharing and Learning from Cardiac Incidents Workshop over the last 2 years, the first day will further explore how the collaborative can share and learn from each other's safety incidents. There will be more presentations and discussion of selected safety incidents from NCBC centres, and we will discuss what actions NCBC centres can take forward in order to help prevent similar incidents and harms occurring in the future.
The outline programme for Day 1 is as follows: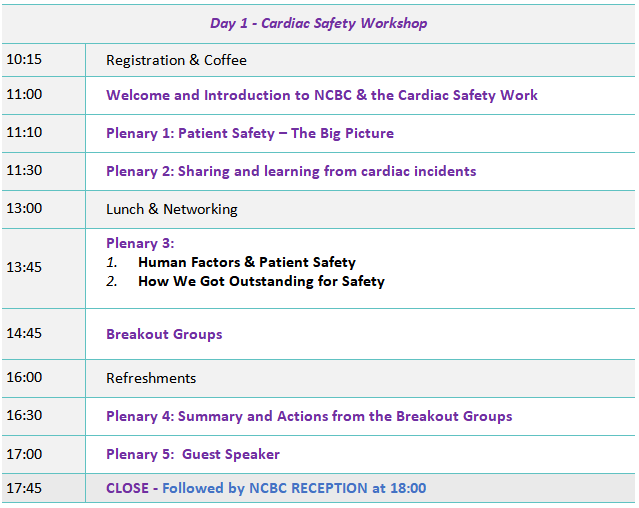 Tuesday 25 February - 09:00—15:30 (Registration from 08:15)
Day 2: NCBC Main Conference
The second full day of the Annual Conference will feature the usual combination of plenary talks from NCBC leaders in cardiac care.
There will also be 10 highly topical parallel breakout group sessions, enabling delegates to discuss common problems and solutions.
This year, we are also holding the second NCBC Cardiac Services Improvement and Innovation Award - with presentations from the four shortlisted finalists and the chance to vote for the winner!
The outline programme for Day 2 is as follows: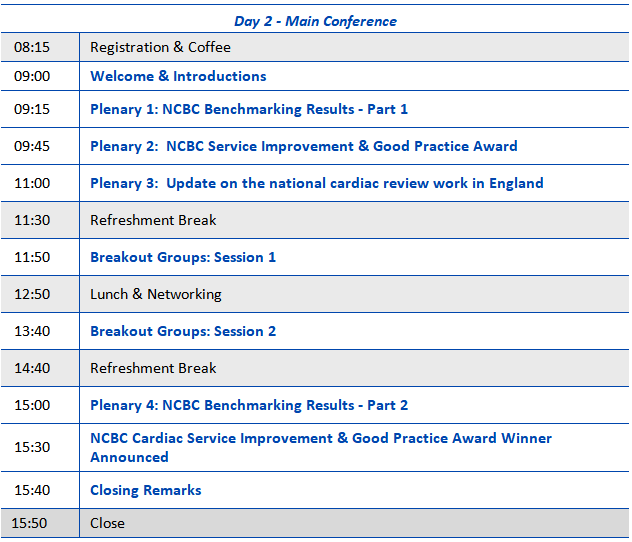 NCBC Annual Conferences 2015-2019
Presentations from the Annual Conferences in 2015 through to the 2019 Annual Conferences are available to download by logging onto the members area of this website. If you do not have a password you can apply for one here.
The NCBC Annual Conference is only open to employees of member centres, together with and invited guests and speakers. The 2020 NCBC Annual Conference is now fully subscribed - but keep a look out for the dates for the 2021 conference if you are interested in attending in the future.